Recommended Reading list
Half Term Information Sheet
Please find information about Summer 1 below.
This half term's Special Mention
Summer 2018
11th May 2018 - Special Mentions went to Will and Jack this week for their concentration and hard work in PE this week.
4th May 2018 - This week we had TWO Special Mentions - One for Max for his effort with his writing with Miss Moughan in English and Peter for amazing Miss Jarvis every morning with his phonics practise!
27th April 2018 - Kara got the Special Mention in Elm Class this week for her amazing understanding in maths. Kare stood up and taught some other children how to partition 2-digit numbers into tens and ones.
20th April 2018 - Isabella got a Special Mention for her brilliant descriptive language in her royal wedding menu!
This half term's CHAS
Spring 2018
11th May 2018 - Mia got to take home CHaS this week for helping others in the class which was so nice to see!
4th May 2018 - Thea got to take home CHaS for being a perfect role model in Elm Class. She is so polite and caring, helping and sharing always!
27th April 2018 - CHaS went home with Samuel for being an always child - always caring, always helping and always sharing! What a brilliant role model to others!
20th April 2018 - Daniel took home CHaS for doing the right thing and recognising when people do the wrong thing and also praising his peers when they do something good.
Homework
This is your child's Mission possible Homework Booklet for Spring 2. The home learning activities are linked to the Mission that the children are focusing on and they will be carefully chosen to develop different skills in relation to a variety of curriculum subjects.
What we've been doing this week
In PE we have been focussing on travelling across the apparatus with Miss Jarvis and using directional language with Miss Moughan.
In English the children have written instructions on how to be the 'perfect Prince or Princess' using bossy verbs. The children came up with some very important ideas of how members of the Royal Family should behave!
In maths this week we have been recapping our knowledge of measurement. We begin the week looking at capacity and then length. We spent a lot of time thinking about how we could make sure our estimations were sensible by using our existing knowledge.
After some class planning, the teams in Mission began their activities to help prepare for the Royal Wedding. Some children are designing and creating a palace for Meghan and Prince Harry to live in once they are married, a team have began making a royal crown for Meghan, another team have started planning a very royal honeymoon, the forth team are making some wedding wrapping paper using repeating patterns and a fifth team are creating wedding invitations! There is still lots of work to be done before the 'big day'!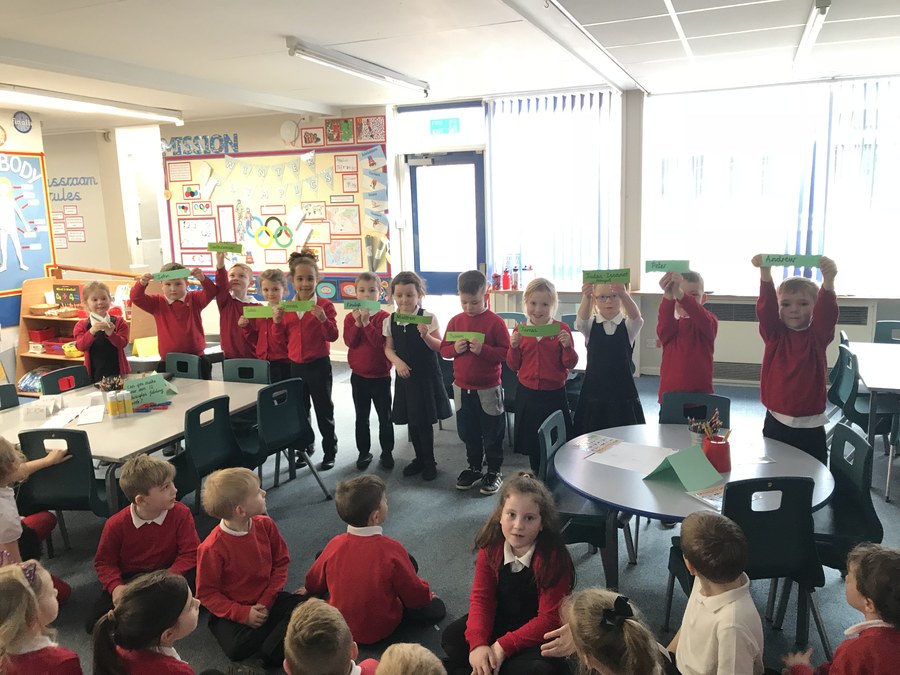 Wow moments!
Summer 1 2018
Joe, Myla and Zachary completed their letters to persuade Meghan and Harry to go to their chosen place on their honeymoon. I think they would struggle to turn them down as they were so persuasive!
Macie and Jack made two amazing crown's for Meghan Markle in Mission Possible this week. Jack then went on to teach others how to make a medal for Prince Harry.
Wow to Abigail, Eliza, Yuki, Isabella, Joe, Samuel and Thea for working so hard to understand how to carry the tens when answering column addition calculations.
Peter explained to the class what glass was made out of and everyone was very impressed!
Alfie and Joseph have really impressed Miss Jarvis with their improved handwriting - practise at home has really helped them to improve!
Jessica has tried very hard to make sure her 'p' are the correct way round this week and I think she has finally cracked it!
Add Elm Class on Twitter to keep up to date with our work in class!
@WECPS_Elm