Sycamore Class - Year 4/5
All children in year 4 will be required to take the multiplication check in the summer term, so we are having a huge push on learning times tables over the year. We have times table practise books which are kept in school as well as a times table app we subscribe to, as a school, where the children can practise these in a fun way.
Times table Rock stars
We have a subscription to TT Rock stars which the children absolutely love! They can play on 'garage', 'studio' and complete 'soundchecks' which follow the layout of the multiplication check in Summer.
The login details for this app are in the front of the yellow reading records.
We have regular "battles" within school between different classes and the winning class are rewarded with different activities.
We were the Rockstars winners and chose a 'Pyjama Day' as our reward!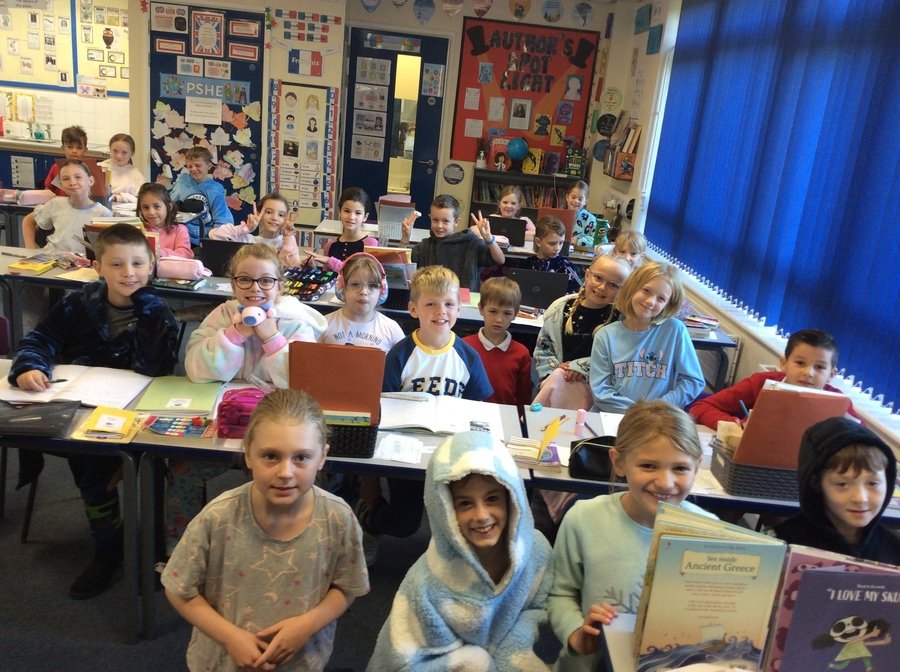 In Science this half term we are looking at rocks and as part of this unit of work we looked at the layers of the Earth. After finding out about the different layers and what they were made of and how hot they were (which was astonishing!) we recreated the layers of the Earth using playdough and labelled them. We were so impressed with our achievements we even stood up in assembly and told the rest of the school all about them.
We have already been hard at work in Sycamore, during the first week we looked at the different trees in our school grounds and created bar charts to show the different numbers. We also wrote acrostic poems about the Sycamore tree and drew an image of the leaf.
Roald Dahl Day
We made the BFG's famous Frobscottle and some of us were even daring enough to try it! We then wrote instructions on how to make this gloopy, green drink and drew our own designs. We followed instructions on how to the draw the BFG and were really proud of how they turned out.
We have started creating our Greek vases. We used different techniques and materials including charcoal, felt tips, wax crayons, charcoal pencils and whiteboard markers to start our patterns. We also had to decide if we wanted symmetrical or asymmetrical vases. We are really proud of how they look. We also wrote non chronological reports about the Heraean Games and what they were like. We were really surprised to find out all the information we did and how young girls at that time were able to take part in their own games dedicated to the Goddess Hera.
As part of our Remembrance Day lessons we looked at the poem In Flanders Fields by John McCrae. We created our own blackout poetry using words from the original poem to convey the messages we felt were most important from the poem. Behind our poem we drew images of poppies. We were really proud of how they turned out and some are also on display on the English board in the corrider by the lunch hall.