Comments (1)
Show Comments
Mr R - Parent
(a couple of days ago)
As the government requires children to be educated at home because of the Covid situation, it is incumbent on all those involved to ensure the children's education suffers as little as possible. In this respect, WECPS has put in place very comprehensive learning facilities to accommodate all situations. The Head teacher keeps parents up to date on a daily basis with the sometimes, bewildering changes that have to be made. Miss Langridge makes sure everyone is aware of every aspect of Covid that effects the schoolchildren education and welfare. Individual teachers and staff of the school follow their Head's example. My son is in Year 2 in the care of Class teacher Miss Frier. Her excellent preparation of remote schooling lessons make it easy for the parents of her children to cope with the stress of having multiple roles at home. Miss Frier, and all the other teaching staff, work far beyond their required hours to make sure the education of her pupils carries on smoothly. The teaching staff as WECPS are available to respond to all questions from parents on a daily basis and epitomise the CHAS school motto, Caring, Helping and Sharing. The biggest compliment I can give to WECPS is that if I was offered a chance to go back three years and choose any school for my four year old son to begin his school career with, I would choose Whitley and Eggborough community primary school again. Thank you Miss Langridge.
ChaS and Special Mentions
W/B 11th January
Latest School calendar Events
School Closes for half term

12

Feb

2021
Home Learning at it's best ...
George enjoying the experience of snow in the garden with his dog. The learning we can get from everyday or rare experiences is vital to us being able to describe later in our writing.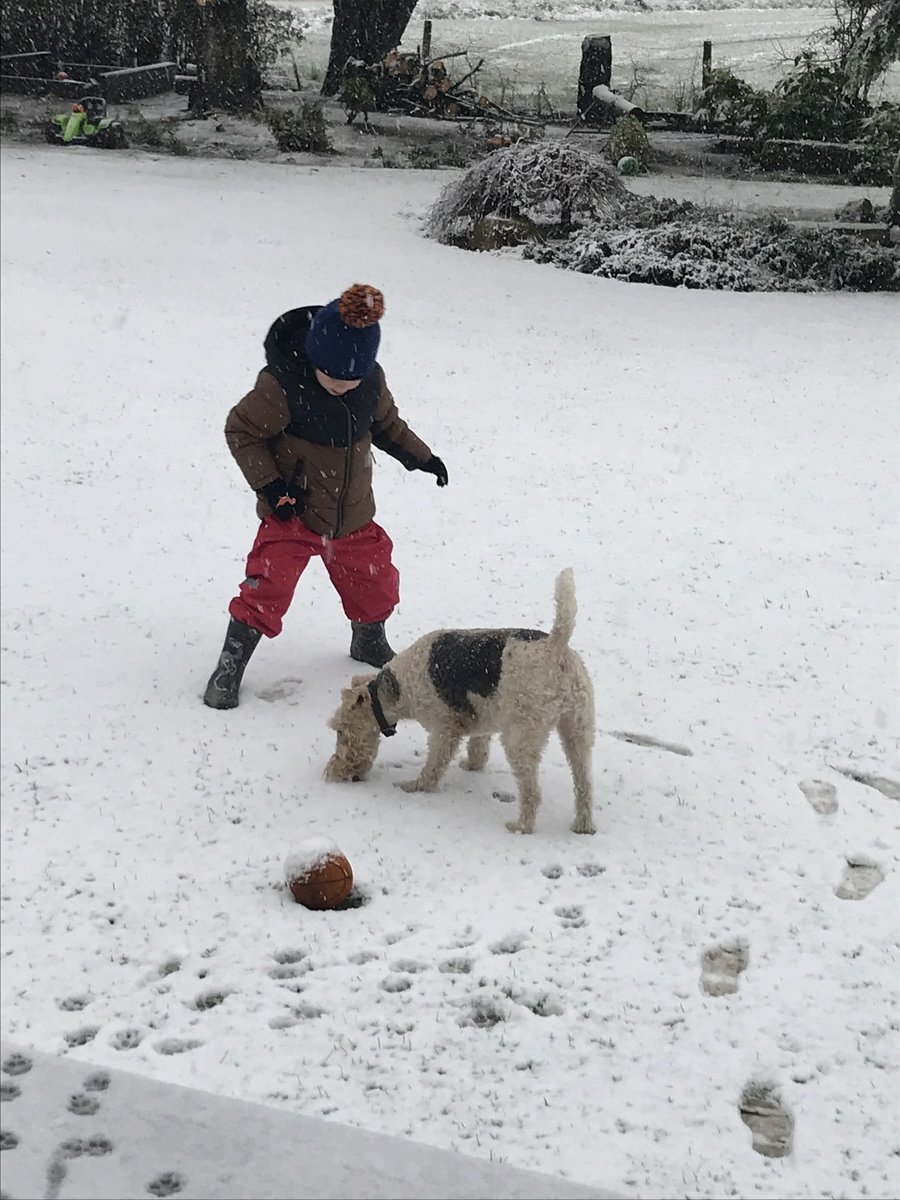 Update for end of week 2 - 15th January 2021
Update 13th January 2021
Please see below an update clarifying the Google Meet sessions for meet and greet and live lessons throughout the week as well as details on positing work through Google Classroom.
Thank you for everyone's continued support. Miss Langridge
Update 10th January 2021
Remote Learning
We have added some "live sessions" that we believe will help the children feel more part of the school day as they are remote learning. Please read carefully and access the codes of the new group classes for
Acorn, Pine and Elm
Aswfqzg
Cherry, Chestnut and Willow
ew6ugds
Sycamore, Maple and Oak
5mgtrnu
There is also a sample timetable to help you structure the day - please note this is for guidance only.
After School Club - childcare
Please note, having received the information back from parents with requirements for childcare, it will not be financially viable to run the After School Club. Children who are attending school should therefore be collected at the end of the school day at 3 pm. We understand this may make things difficult for some parents and apologise for this, but we are unable to run the service at a loss.
Breakfast club will be running from 7.30 am onwards (with breakfast available) One charge of £5.00 will be payable per child and MUST be paid in advance.
Thank you.
Remote Learning Policy
Year 6 Leavers video
We hope you enjoy watching the video - we are sorry we could not say these things in person. We will miss you all and wish you all the very best.
Welcome to Whitley And Eggborough Community Primary School
May I welcome you and your child to the school. Whitley and Eggborough school provides a high standard of teaching for all children who attend. Children obtain good national test results and receive a well-rounded education from experienced, committed teachers and other staff. As well as high levels of achievement, our philosophy is that children should enjoy learning and school life and feel part of the family atmosphere we work hard to foster.
Opened originally in 1877, the school was extensively rebuilt in the early 1970s and was recently further extended in 2011. It has a pleasing open aspect to the rear of the buildings, looking over farm and woodland. We have our own woodland and pond area, which we enjoy and use as an integral part of our curriculum work.
At Whitley and Eggborough School, our vision is provided through a rich range of memorable learning experiences, learning experiences that affect the emotions. In other words, learning that excites and charges experience, learning that makes our children feel something significant and provides experiences that they will remember for a long, long time. This is achieved through creating learning opportunities in the classroom that are inclusive, meaningful and thrilling. Learning moments and experiences engage the children and excite their emotions, send a shiver through the soul and put them in 'challenging' situations.
We want to encourage learning for the future and so it is vitally important that the children are happy, secure and that their learning journey is fun.
If you require paper copies of any information available on our website, please contact the school office. We will be happy to provide these free of charge. These can also be made available in large print, braille or another language.
Contact Us
Learning Lane,
Whitley,
Goole
East Riding of Yorkshire
DN14 0WE
01977661247
Headteacher: Miss S Langridge
Inclusion Manager: Mrs K Davies
School Admin: Mrs A Hodgeson